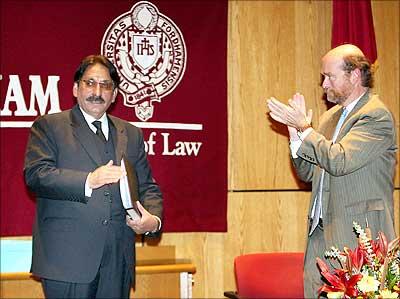 Image: Chaudhry (left) is welcomed by William Treanor, Dean of Law School at the Fordham University in New York on Tuesday. Photograph: Jay Mandal/On Assignment

The 23,000-member New York City Bar Association conferred its honourary membership to , the deposed chief justice of Pakistan's Supreme Court on Monday.
In his address, Justice Chaudhry thanked American lawyers for supporting the lawyers' movement in Pakistan in their struggle to restore an independent judiciary.
Former Chief Justice of India P N Bhagwati is also an earlier recipient of this honour.
On Sunday, Chaudhry was given a rousing citizens' reception in New York. Some Pakistanis had travelled from as far away as California and various points in Canada [Images] to welcome the deposed judge. The meeting arranged in his honour at a Brooklyn restaurant was jampacked with people.
Chaudhry is on a three-city tour visiting and lecturing on the rule of law and the independence of the judiciary in Pakistan.
link: http://www.rediff.com/news/2008/nov/19look-deposed-pak-cj-in-nyc.htm