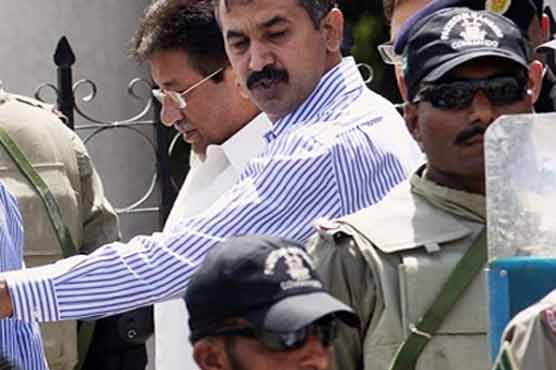 ISLAMABAD: The Islamabad High Court (IHC) on Thursday ordered immediate arrest of former military ruler Gen (r) Pervez Musharraf in judges detention case.
The retired general immediately left the court premises in Islamabad, driving away in a convoy escorted by Rangers personnel and his bodyguards to an unknown location.
Musharraf returned to Pakistan on March 24 after four years in self-imposed exile, and is accused over the 2007 killing of Benazir Bhutto, the 2006 death of a Baloch leader Nawab Akbar Bugti and for sacking judges in 2007.
He has been in and out of courts in recent weeks, extending his bail in connection with all three cases, but on Thursday a court in Islamabad cancelled his bail over the 2007 sacking of judges.
"The judge Shaukat Aziz Siddiqui ordered that the interim bail is dismissed," Musharraf s defence lawyer Qamar Afzal told AFP.
The case is based on an FIR against the retired general registered in August 11, 2009 on the complaint of Chaudhry Mohammad Aslam Ghumman advocate.
He had asked the police to initiate legal proceedings against Musharraf for detaining over 60 judges, including Chief Justice Iftikhar Muhammad Chaudhry, after proclamation of a state of emergency in the country on November 3, 2007.
link: http://dunyanews.tv/index.php/en/Pakistan/169696-Musharraf-flees-as-court-orders-his-arrest